Hotel Management Software
Hotel Management Software
Currently, the hotel business is making new developments, contributing effectively to the promotion of the country's image. Following that trend, hotel management software is becoming a hot profession. The hotel manager is the person who plans the business, monitors and manages the operations of the hotel.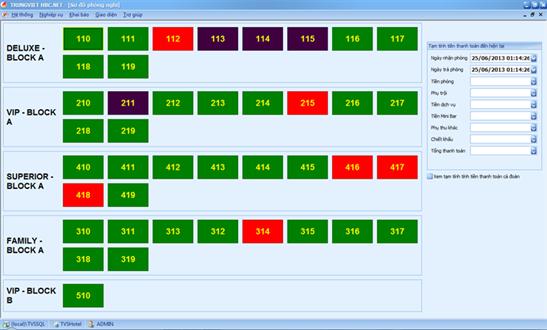 Why use the hotel management system?
Currently, most hotels are still using the old management method: using books and papers in combination with Microsoft Excel to calculate. However, that management method has many limitations such as: taking too long to manage; revenue loss; costly. Unable to accurately grasp the number of guests and vacation time; Having trouble managing employees. Using hotel management software is the solution that many hotel managers trust. And the application of technology to management is increasingly popular and has become a competitive advantage today.
Currently on the market there are many hotel management software with a lot of features with different prices. However, to choose the most optimal management system, best suited to the hotel management problem is what makes managers very concerned.
Outstanding advantages of hotel management software
1. Smart, convenient administration: Intuitive software interface, combined with convenient room management functions.
+ Manage hotels online remotely, effectively, professionally.
Online hotel management on the web, can be used on: computers, laptops … Anytime, anywhere, no installation required.
+ Hotel management is simple
Our commitment to hotel management is the easiest hotel management software available today.
Can be used immediately. The management software will guide you through each step clearly as soon as you log in if you are a new user. You do not need to spend time learning how to use it.
Just 5 minutes you can quickly glance at the features of hotel management
24/7 online support, hotel management software with support channels such as: Send support, Live chat and hotline.
Within 5 minutes the hotel management software support team. will solve your problems.
+ Management software
Used offline on computers, so even if the network is lost, the software still works normally, managing online on phones and smartphones.
Real-time management of software and reception cannot be fixed.
Strictly manage employees, avoid fraudulent employees.
Integrated hardware automatic management of electrical equipment in the room to help save energy.
The interface is smartly designed, easy to handle, and user friendly.
Integrating magnetic card lock into the software system.
Decentralized accounts, flexible account groups.
Data encryption, ensure data security.
Support email automatically report.
Hotel management software – effective management solution for hotels
There are hundreds of reasons for using hotel management software. Here are some of the most outstanding features of hotel management software.
+ Effective room management
Booking management is now very simple, you just need to follow the reservation diagram so you can know which rooms are available, which ones have been rented, and then the most reasonable arrangement. In addition, with strict management, the front desk can easily change rooms for guests when needed.
+ Reduce costs and increase revenue
With hotel management software, you don't need to hire extra staff to manage your books. All you need to do is enter the information into the software. The software will then calculate and store and you can export as needed.
+ Integration with many devices
Most hotel management software today are compatible with many different devices such as smartphones, ipads, laptops. So you can manage the hotel anytime, anywhere.
+ High stability and high security
When using hotel management software, you are completely assured of stability and security. In case of a lot of people accessing the system, it still works very smoothly, without worrying about crashing or being slow. In addition, you can delegate to the person operating on the system. So information can be stored absolutely securely.
+ Manage revenue and expenditure effectively
With hotel management software, getting paid is much easier. The system will provide calculation features. Daily / hourly revenues and expenses help the hotel to understand each of the hotel's money in / out.
Contact us today for free support and advice:
Address: Lot 43 P3.10 Đường Hòa Bình 4, P. Hòa Quý, Q. Ngũ Hành Sơn, TP. Danang
Representative office: 05 Cao Thang, P. Thanh Binh, Hai Chau District, TP. Danang
Phone: 0941.300.639; 0902,401,024.
See more : Software design services
Contact now Skytech today for the best deals..