HR management software
HR management software
Human resource has long been a vital issue of an organization or business. Businesses want to survive and thrive, they must have policies to recruit and manage personnel effectively. Human resource management is the workforce management of an organization, business, company, human resource. Managing human resources requires an understanding of people in various aspects. Human resource management associated with all organizations and businesses. Therefore, the labor force in the enterprise plays a huge role and is a particularly important factor in the operation process of the organization. To ensure the sustainable development of the business, human resource management software must be a top priority.
1. Human resource management
Main function
Managing various personal information of employees such as: Personal information, education, working process, salary, bonus, discipline …
Allow updating employee photos and printing in resume.
Allows updating information about foreign language certificates.
Allows updating professional career level and quick report "professional staff list".
Allow updating the type of job, nature of job, position, part-time …
Managing the current status of employees: working, on business trips, going to school, taking separate jobs, taking sick leave, taking leave, having stopped working …
Allow updating relevant information about passports / visas.
Display diagrams and business structure in a graphical format with the "drill-down" function for detailed information.
There are tools to look up and find employees easily
A diverse and informative reporting system, ensuring for analysis and human resource planning
Closely connected with the timekeeping module, payroll to simultaneously update the data on wages, salaries, allowances, personal income tax payable …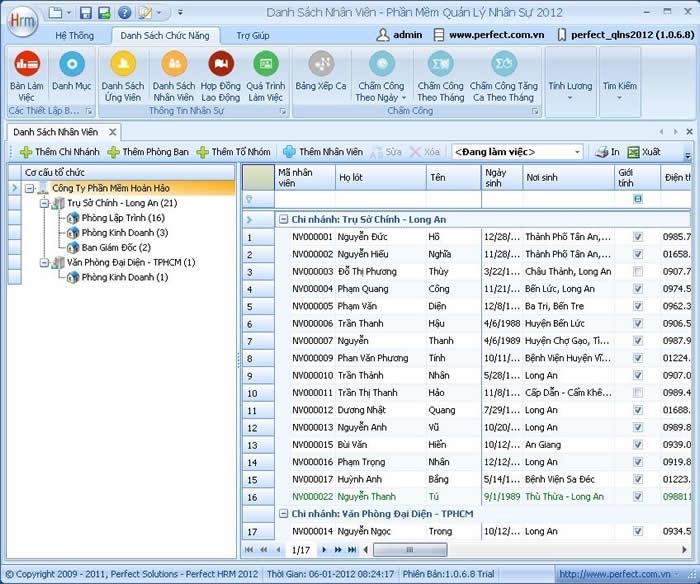 Report employee fluctuations
List of employees increase / decrease by department
List of dispatchers by department
Report on labor evolution by department, job position.Report employee statistics
Report statistics on the number of employees in the year
Report statistics on the number of employees by nature of work in the year
Statistics reports of seniority working by department
Report the rate of employees leaving
Report on resignation statistics by reason
…
2. Training management
Main function
Manage in detail the process of organizing training courses for employees from the planning, implementation and training results of each participant.
Track training needs from departments and divisions in detail for each skill and profession.
Track details of the course information such as content training, training forms, training units, lecturers, training costs, course status …
Provide timely and complete statistical reports, analysis of training situation, training requirements …
Complete information about the training process. Training results are automatically transferred to monitoring and management in the employee information section.
Utilities
Training report
Training request report
Report training plan
Training implementation report
Detailed report of course results
Report training results by staff
Report required training by job position.
3. Manage reviews
main function
Detailed management of employee performance evaluation process in detail according to each job indicator.
Enables to declare the detailed performance evaluation criteria by each employee.
Allow separate monitoring of employee self-assessment results and audit management levels
Fully reflect, timely, the opinions of employees during the evaluation process.
Make detailed reports, summarize the situation of employee work evaluation.
Utilities
Evaluation report
Assessment sheet of the work situation
Summary table of employee evaluation
Summary table of multi-period reviews
Evaluation progress report.
4. Distribution of tools and instruments
main function
Manage and allocate CCDC details to each department and employee.
Keep track of CCDC allocation date, warning of expiry date.
Monitor CCDC request by job location, check alerts and do not allow to save if concurrently CCDC code, department, job
position, effective date.
Monitor CCDC expires, CCDC decreases.
Allow transfer of CCDC to next year.
Utilities
CCDC report
CCDC allocation report
CCDC reduction report
Situation of CCDC allocation by staff
Situation of CCDC allocation by job position
Report CCDC pending expiry.
BENEFITS OF HUMAN MANAGEMENT SOFTWARE
SKYTECH's personnel management software helps to store all employee records, personal information, labor contracts, etc.
Staff records will be divided by departments, the department makes information look up becomes easy, fast, helps assess employees in a focused, effective manner.
The recruitment process is fully managed on personnel management software, which makes it easy to manage, evaluate and screen candidates.
Managers also easily monitor employee training plans, which can evaluate the performance of each employee in each department.
Benefit
Human resource management software helps automate the process of calculating salaries and insurance of businesses. Allow flexible salary calculation for each needs of the business. In addition, HR management software also helps businesses calculate hourly and product payroll most easily.
Human resource management software allows managers and business leaders to monitor and understand the situation of personnel in all aspects thanks to the reporting system, from the employee performance evaluation reports, reports and reports. personnel fluctuation map, training plans, recruiting … From there, business leaders will have the most comprehensive and accurate view of the personnel situation to be able to make the right adjustment decisions, timely.
Human resource management software enhances the ability of managers, supervisors, and business executives, expanding the ability to access information to help managers perform their jobs quickly, easily and convenient. Optimal use of resources in production and business, minimize paper workload. Analyze and evaluate accurate and timely information through a system of information storage solutions, following a uniform and standardized process.
It can be said that SKYTECH software is the most suitable and comprehensive software solution to meet your library management and operating needs. The software has a lot of utilities, meeting almost completely the most stringent requirements of customers with extremely reasonable prices on the motto "Where is cheap – We are cheaper". In addition, the software is very user friendly, easy to use and highly customizable. Using software to save time, the stages of operation are performed according to a certain process, so as not to cause mistakes, errors; access anywhere, meet the needs of managing and solving tasks in the fastest way of the library.
SKYTECH TECHNOLOGY DEVELOPMENT CO. LTD
Address: Lot 43, P3.10, Hoa Binh 4 Street, Hoa Quy Ward, Ngu Hanh Son Dist. Danang
Representative Office: 05 Cao Thắng, P. Thanh Bình, Q. Hải Châu, TP. Danang
Phone: 0941,300,639; 0902.401.024.
Email: sales@skytechkey.com
Facebook: https://www.facebook.com/SkyTechKey/
Instagram: https://www.instagram.com/skytechkey/
Twitter: https://twitter.com/SkyTechDaNang
See more : Software design services
Contact now Skytech today for the best deals..