NEWS WEB DESIGN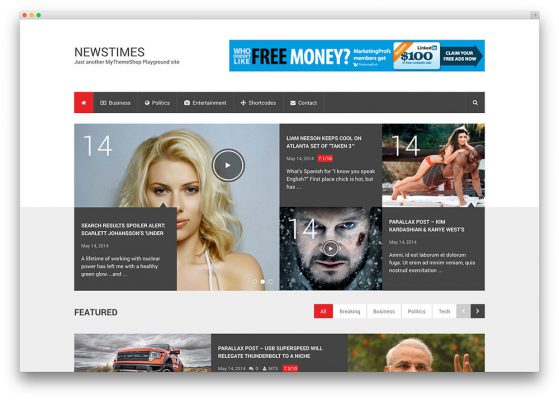 NEWS WEB DESIGN
News responsive mobile web design – mobile, tablet. Web design news introducing companies, products, and services compatible with mobile devices to help your customers find information and products easily and conveniently on all devices at a reasonable cost. Most in Danang
WEB DESIGN NEWS WHY DO YOU NEED TO DESIGN?
1. MAKE MONEY ONLINE
This is a very good and useful form of making money online. When the information from your articles attracts millions of views and your news website becomes famous and popular, the money from advertising rental is absolutely possible.
2.TRANSHIP OF COMPANY PROFILE
A big business or corporation always has company news, inside information and customer-oriented information. So news web design makes it easy for businesses to manage and update information. Thereby helping employees in the company and customers to update their information accurately and quickly.
3. PROVIDING QUICK INFORMATION
The current era of information explosion always makes users fall into the state of lack of information. The design of news web helps customers satisfy that thirst of information. As a result, customers recognize your business through online newspapers and their customer contact rate is pushed higher.
News web design service functions:
Homepage: animated banners, logos, new products, featured products
Services – Products: Display product information, prices, images …
Events: News about companies, new products, promotions …
Recruitment: Recruitment information, conditions, interview format …
Contact: Contact information, route map, contact form
And modules: Quick search, online support, access statistics …
Technologies used on news web design services:
HTML5 source code with better SEO tags, lightweight and smooth on both mobile devices
Responsive Bootstrap technology is compatible with all devices
– New and most popular technology programming languages ​​such as PHP, WordPress, C #, Java, MVC, FR CI, … technology to create interfaces, beautiful and vivid effects that still ensure speed and security.
Outstanding characteristics
Professional website design, scientific layout of functions in order to make it easy, convenient and attractive interface for readers.
The website uses technology in design and code to load quickly and increase the website's flexibility.
Building a website with administrator rights for members as required by the administrator, members only have the right to post, members can only post videos, members can approve articles and many features. other rights.
Build an administration system to add, edit and delete news categories in the administration. Admin can edit the news category as required in the admin
Build website to browse news and schedule online articles, online videos on website. Designate readers for posts in administration.
The management system has a decentralized authority so a professional business can assign the task of updating news according to its function.
Allow readers to register to share information, write articles …
Website is designed as an information management system – an electronic compilation, allowing multiple levels of rights such as: edit posts, browse articles, publish articles ..
Utilities – web applications to help visitors make the most of information on the website
Build friendly links with search engines
In terms of compatibility: the website can run well on popular browsers such as IE, Firefox, Google chrome, Opera …
SKYTECH TECHNOLOGY DEVELOPMENT CO. LTD
Address: Lot 43, P3.10, Hoa Binh 4 Street, Hoa Quy Ward, Ngu Hanh Son Dist. Danang
Representative office: 320 Street 2/9, P. Hòa Cường Bắc, Q. Hải Châu, TP. Danang
Phone: 0941.300.639 – 0902.401.024.
Email: sales@skytechkey.com
Facebook: https://www.facebook.com/SkyTechKey.Web.PhanMem.Camera.BenReDep/
Instagram: https://www.instagram.com/skytechkey/
Twitter: https://twitter.com/SkyTechDaNang
See more : dịch vụ thiết kế website
Contact now Skytech today for the best deals..