Outstanding features of Property Management Software
Asset management software is a total solution designed and built for use in state agencies. Thereby, it helps State agencies monitor and manage the current list of use of fixed assets, tools, consumables and other types of assets owned by the units. The system helps competent units manage assets effectively, reducing costs, time, effort, convenient in inventory, asset management, from which the distribution strategy is most effective. . The software system has functions that decentralize to each department to view, edit, and delete management information for each asset.
Key points in property management software
Declare / register a list of equipment, fixed assets (synchronize with asset accounting module on portfolio) with detailed information about manufacturer, year of manufacture, technical information. , working capacity, …
Manage administrative records of the device
Update and manage records such as registration, registration, inspection, insurance, … of each property, equipment.
Update, monitor and alert information about the deadline of papers, administrative records of each asset, equipment. Manage information of licensing units, renew the administrative records of the equipment to perform new issuance, renew when needed.
Attach documents such as manuals / operating instructions, documents, recommendations, manufacturer's maintenance regulations, … or photos of equipment, scanned images / files of administrative records of equipment.
Update information on handover and allocation to departments or personnel directly managing assets and equipment.
Update and manage logs, user update, and operation of each device.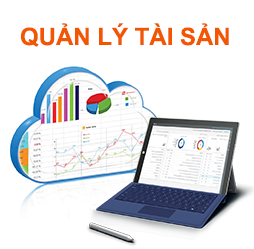 Manage equipment maintenance cycle
Declare the list of items, components and spare parts that must be maintained or replaced periodically.
Update rate, maintenance or replacement cycle of each item, spare part of each equipment.
Flexible declaration of rating types, maintenance cycle. Replacing each equipment such as days (month, year), hours of operation, number of operating kilometers. The declared parameter value is also changed over time to match the age of each device.
Functions, reports warning items, components, spare parts of each equipment to the period of maintenance and replacement.
Salient features:
Manage all existing assets of the Enterprise. Assign property to a specific user or unit in the system. Save your entire history after each use
Manage all data generated in the process of document rotation and processing, including assignment papers, report cards, processing cards, opinions exchanging ideas during word processing on the system network
Managing properties of dynamic assets, users can declare properties for each group of properties separately
Evaluate assets after each use: depreciation, wear and tear, transfer, maintenance, warranty …
Assisting with tracing property or property users
Automatically depreciate assets according to property value
Track and record depreciation of assets
Print an existing property report
Statistics of assets by group of assets, assets in use, assets in stock. Property liquidated, property under warranty …
SKYTECH TECHNOLOGY DEVELOPMENT CO. LTD
Address: Lot 43, P3.10, Hoa Binh 4 Street, Hoa Quy Ward, Ngu Hanh Son Dist. Danang
Representative office: 320 Street 2/9, P. Hòa Cường Bắc, Q. Hải Châu, TP. Danang
Phone: 0941.300.639 – 0902.401.024.
Email: sales@skytechkey.com
Facebook: https://www.facebook.com/SkyTechKey.Web.PhanMem.Camera.BenReDep/
Instagram: https://www.instagram.com/skytechkey/
Twitter: https://twitter.com/SkyTechDaNang
See more : Tin tức
Contact now Skytech today for the best deals..