WHAT TO DO WHEN MANUFACTURING A CONSTRUCTION PROJECT
A construction project has a lot of work that needs to be planned, arranged and assigned tasks for each individual involved in that project. Therefore, project managers are always struggling to find out how to arrange, manage properly and scientifically to avoid work stagnation causing financial loss.
Always in touch between members
Staying in touch is of utmost importance, especially between the responsible heads of each department or members of the same group. By doing so, the new work will be carried out really smoothly and in harmony, as well as new information will be updated quickly.
The project manager must always keep an eye on the situation
Capturing and updating the status of the work progress is one of the most important things in construction project management. There are many ways to keep track of progress, can be captured directly or indirectly.
There must always be a sense of detailing and analyzing the situation
Just updating the situation is not enough, managers also need to record in detail all the problems that occur during the implementation of a project and then analyze the status of the project being carried out. showing on or behind schedule. This greatly determines the success or failure of the project you are managing.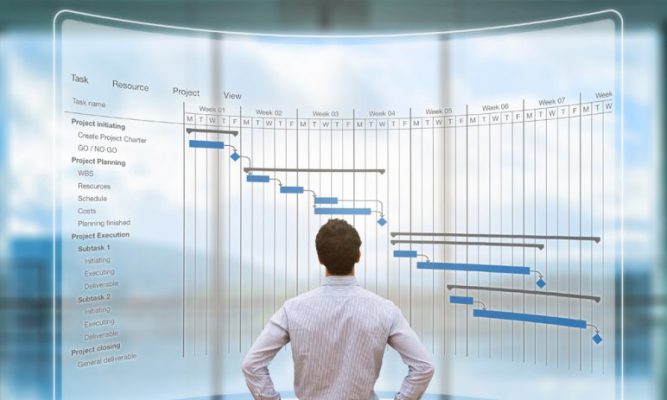 Adapt flexibly to change
During the construction process, some problems arise inevitably causing the project manager to make changes compared to the original plan. Therefore, you must actively adapt flexibly. Quickly find the most satisfactory solution to minimize risks.
Manage construction projects using project management software
Project management software has become a very familiar name in the field of project management. Because our software provides all the features that a manager or project team members need. First of all, there is the ability to quickly plan in the form of a list of tasks (to do list). Second, project management software gives the manager the right to assign tasks to the rest of the team, with the added feature of scheduling completion dates. Third, when work is in progress. Software will also turn into a tool to measure and evaluate work progress.
SKYTECH TECHNOLOGY DEVELOPMENT CO. LTD
Address: Lot 43, P3.10, Hoa Binh 4 Street, Hoa Quy Ward, Ngu Hanh Son Dist. Danang
Representative office: 320 Street 2/9, P. Hòa Cường Bắc, Q. Hải Châu, TP. Danang
Phone: 0941.300.639 – 0902.401.024.
Email: sales@skytechkey.com
Facebook: https://www.facebook.com/SkyTechKey.Web.PhanMem.Camera.BenReDep/
Instagram: https://www.instagram.com/skytechkey/
Twitter: https://twitter.com/SkyTechDaNang
See more : Tin tức
Contact now Skytech today for the best deals..