Web design Law Firm
Web design Law Firm
Web design law firm is one of the website design fields of SKYTECH. We have designed hundreds of websites large and small for individuals and businesses operating in the field of law, legal advice, tax accounting. A professional website will boost your business and bring potential customers to your business.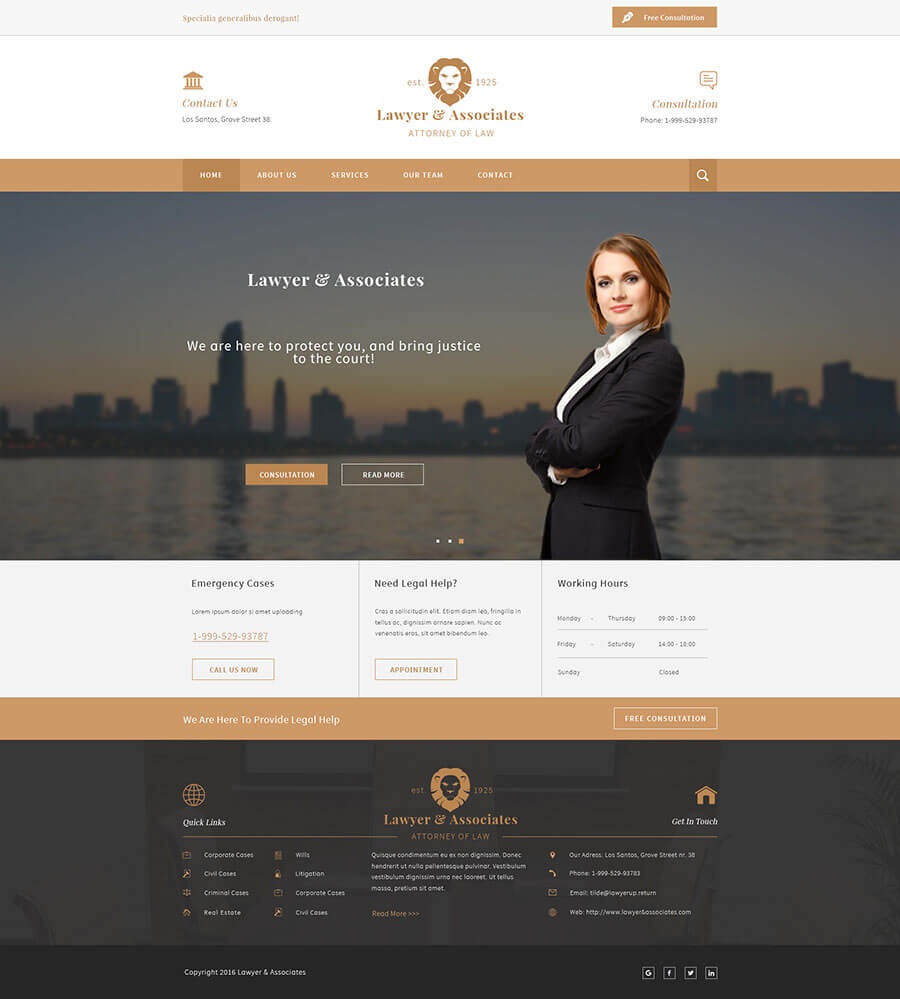 The basic functions of law firm web design
Service classification, consulting items: Admin can add, edit, delete the types of services that his company is providing.
Scope activities: Admin can add, edit, delete the field of activities of the company.
List of lawyers, staff involved in consulting: Display the list of lawyers of the company. Admin can change and edit as you like.
The web interface is professionally designed, using colors and layouts suitable for law firms and courts.
Online support: Built-in live chat feature allows counselors to chat directly and receive advice for customers.
Maintenance mode: With just 1 click to turn on website maintenance mode, helping your website become professional. Avoid accessible guests when you edit.
Website statistics: Provides comprehensive statistics for websites such as the number of people online, article views, pages by custom time …
Advanced SEO functions: $ 100 worth of licenses are purchased to help your website friendly with search engines.
The main module on the law firm's website
Layout: Clearly and logically divided. Because the content displayed primarily on the website is plain text, similar to the news website design, the logical paging element is always focused on by the design team, making it easy for viewers to find and Tracking.
Home page: Display overview content. The interface is designed as required and consistent with the company's brand
Introduction: Display law firm introduction: introduction of bar association, experience, achievements. Allows displaying plain text, high quality images or promotional videos.
Legal documents: Introducing to viewers information about different types of legal documents. Support downloading device. Can be programmed so that customers must register information before downloading documents. This information will be sent to the website's data management system.
News: Allows administrators to update news articles with unlimited numbers.
Search: Quickly search by keyword or advanced search by assigned categories.
Advertising: designing and displaying banners using JavaScript technology
Administration page: optimally designed, simple, easy to use: information management, online support management, news management, …
Contacts: Displays detailed contact information. Can display customer guide map.
SKYTECH TECHNOLOGY DEVELOPMENT CO. LTD
Address: Lot 43, P3.10, Hoa Binh 4 Street, Hoa Quy Ward, Ngu Hanh Son Dist. Danang
Representative office: 320 Street 2/9, P. Hòa Cường Bắc, Q. Hải Châu, TP. Danang
Phone: 0941.300.639 – 0902.401.024.
Email: sales@skytechkey.com
Facebook: https://www.facebook.com/SkyTechKey.Web.PhanMem.Camera.BenReDep/
Instagram: https://www.instagram.com/skytechkey/
Twitter: https://twitter.com/SkyTechDaNang
See more : Customer ,Website designed
Contact now Skytech today for the best deals..